Best Fish and Mezes Restaurants in Istanbul
Before the addresses, how do you eat fish in Turkey?
Built around the sea of Marmara and the Black Sea, Istanbul is full of fish restaurants called "meyhane". These establishments exist since the Byzantine empire, they were in the coastal cities and welcomed the sailors wanting to drink while having a bite to eat. They developed in the Ottoman era where Muslims who could not drink wine fell back on the rakı, an anisated alcohol similar to Ouzo or Pastis.
You can bump into a "meyhane" in every corner during your holiday, in this regard we strongly advise you not to enter the first one you see, avoid the ones in the old town and under Galata Bridge: farm fish and the exorbitant prices for a lower quality are unfortunately too frequent!
In these establishments we usually drink rakı (Turkish pastis) while eating mezes as starters followed by fish. This kind of meal gave birth to an expression "let's have a "rakı-balık" ("raki-fish"). It is a Turkish tradition, a "rakı-Balık" usually lasts for hours, and all topics of conversation are discussed. It's really a very friendly meal, definitely a must-do during your stay.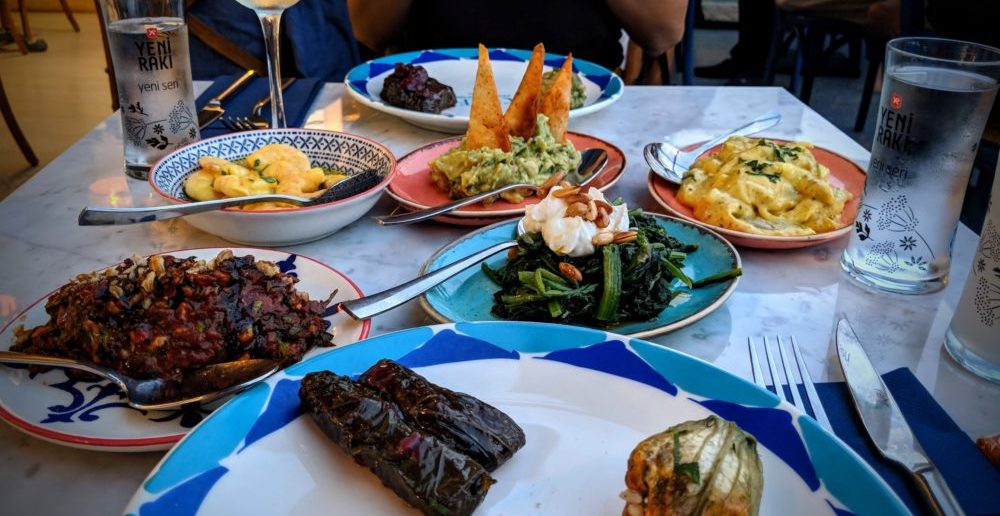 For starters you will be served cold and then hot mezes. There is a multitude, so an easy way to know what is tempting to you is to ask for the presentation tray of mezes (say "meze tepsisi"), do not miss the marinated sea bass with mustard (levrek marin), many salads or vegetable mezes, hummus, karides güveç (small shrimps cooked with mushrooms, tomato and cheese), squid or fried squid plancha, octopus salads (ahtapot salatası), and many others… If after that you are still hungry you can eat hot meze or a fish that will be grilled without sauce accompanied by a salad, and a nice slice of raw onion, and lemon.
Depending on the season, the price of fish is variable, it is not always indicated on the menu, remember to ask the price. You can find here our table of fish by season.
Eating good fish in Istanbul is possible provided you know the best addresses!
In addition to the meyhane (taverns), you can eat very good fish in more luxurious restaurants on the shores of the Bosphorus in a heavenly setting:
Our selection of good fish and seafood restaurants:
The Arnavutköy district: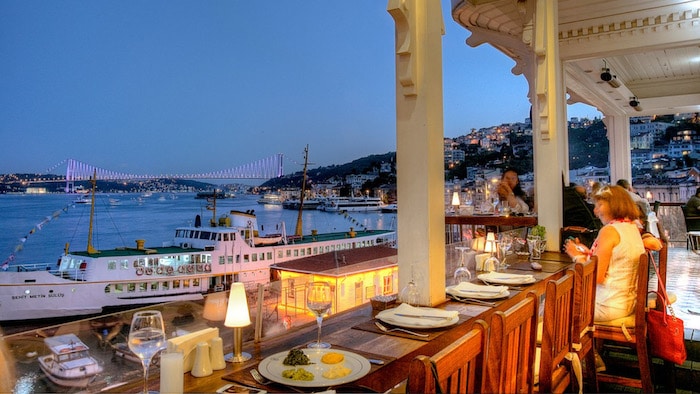 We love the Arnavutköy district, it is one of the most beautiful areas of Istanbul with beautiful wooden houses, super local, and there are several nice restaurants like SurBalık (the most chic with a breathtaking view on the Bosphorus), Lipari (cheap, local and very good) Arnavutköy Balıkçısı or Eftalya (two of the neighborhood institutions, good service and great food). They are all located on the same street. Remember to book for the weekend because there are always a lot of people.
You will also find in Arnavutköy several nice bars to continue your evening: Alexandra Cocktail Bar (www.alexandracocktailbar.com), witch is a wonderful bar that offers delicious homemade cocktails (the rooftop is very nice), and Any (anyistanbul) a small pub with live Turkish music from time to time. Here is the address of the street: Arnavutköy Mah. 1. Cad, Arnavutköy, enjoy your meal!
Eleos Beyoğlu: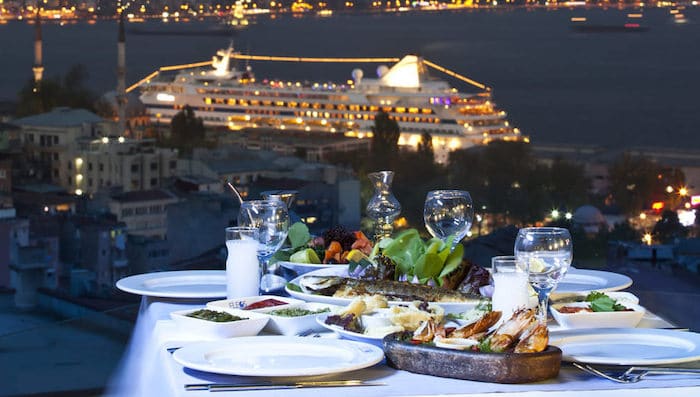 It is a beautiful terrace on Istiklal Avenue overlooking the Bosphorus, the mezes are fresh and rich in flavor, and the prices are reasonable; what more ? In addition to the Turkish meze you will also find delicious Greek mezes and lots of small surprises offered by the house. Remember to book the same day on weekdays and a few days in advance for weekends before you go there.
Address: Istiklal Caddesi, Hıdivyal Palas, No 231, Kat 2, Beyoğlu, İstanbul
Link : www.eleosrestaurant.com
Karakoy Lokantası: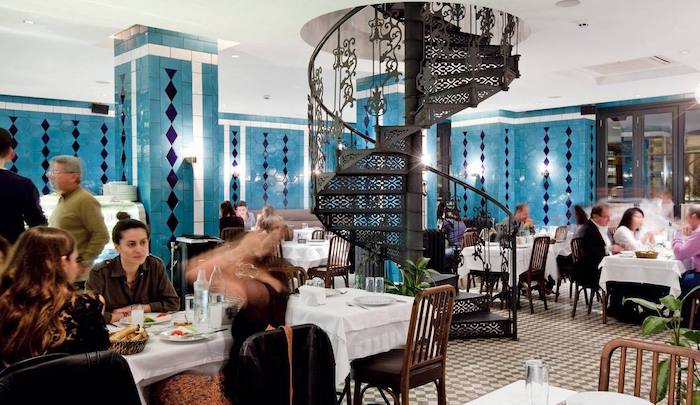 This is a real institution and also a safe bet! Carefully renovated in beautiful turquoise colors this historic tavern is a must! The restaurant is comfortable, there is not much choice in terms of dishes, I advise you to take the meze tray rather than fish, the value for money is excellent and the ingredients are very fresh. If you are in the area I really recommend going there rather than going to the Galata Bridge restaurants which are poor tourist attractions. At noon they also offer daily menus of homemade dishes, succulent! This restaurant is very often full in the evening, so remember to book in advance.
Address: Kemankes Karamustafa Paşa Mh, Kemankes Cd. No: 37, 34425
Link: karakoylokantasi.com
Del Mare: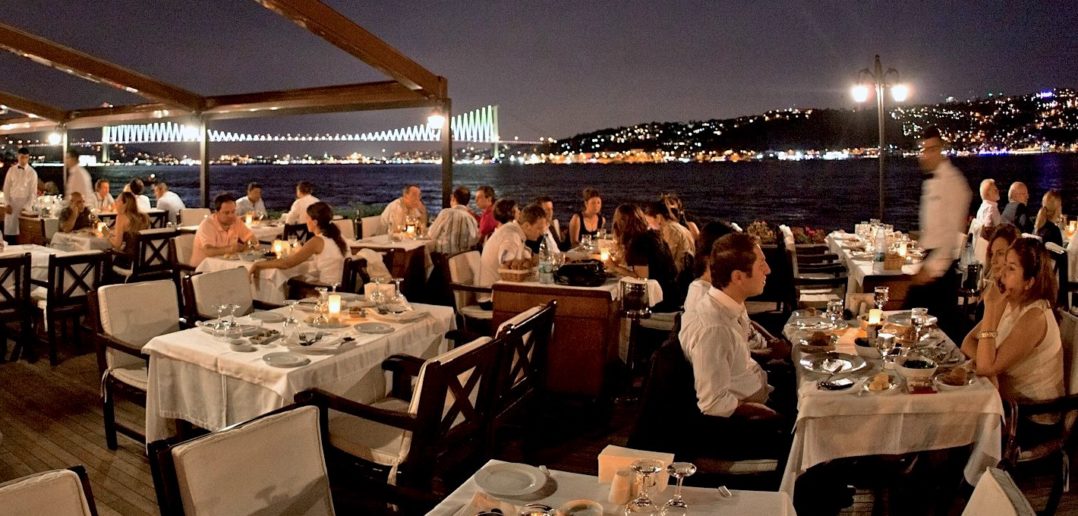 It's a Bosphorus restaurant on the Asian side of town, great food and fantastic view of the city and the strait. They pick you up and take you back by boat from Europe, which adds a touch of romance. Do not miss the octopus carpaccio, fried shrimp and yogurt ravioli, but also the good fish and Turkish mezze. The well stocked wine list (and raki) and perfect service will also satisfy you! A little more expensive than average, but the quality of the meal, the romanticism of the place and the setting totally justify the price!
Address: Çengelköy Mahallesi, Kuleli Cd. 45-1, 34680 Üsküdar/İstanbul
Link: www.del-mare.com
Uskumru: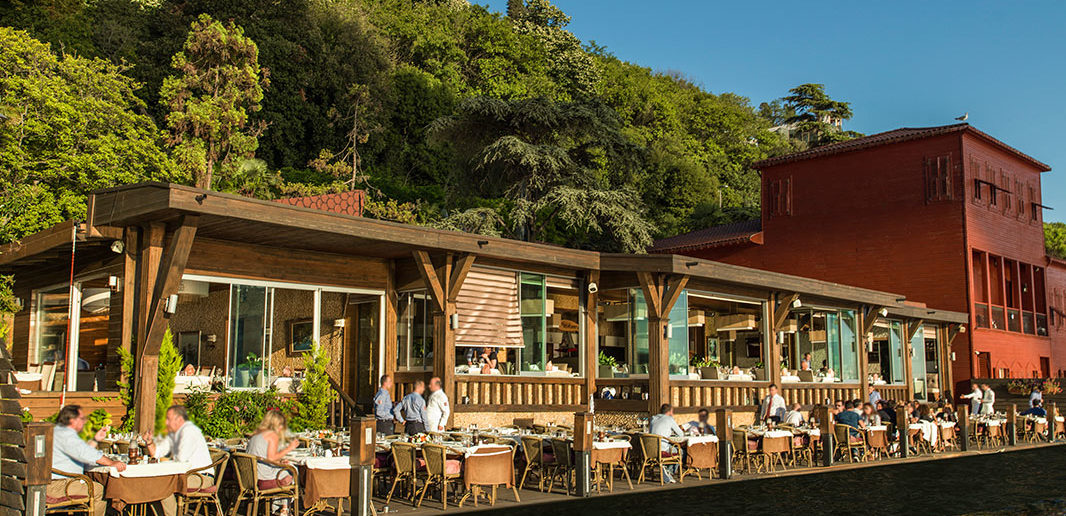 An exceptional place that can only be reached by boat. To get there, go to the platform at Rumeli Hisari and take the boat that will take you to the other side of the Bosphorus shore. The period from April to October is the best time to go there. You can eat in the sea, your feet touching the water. An experience not to be missed.Go there in the evening or during a sunny afternoon. The appetizers are superb, sea bass with basil or squid a la plancha with walnuts and many others. This place is very popular, having a nice table requires a reservation. The price is high but largely worths its salt by the frame and the quality of the products.
Address: Anadolu Hisarı Mh., Körfez Cd No:55, Istanbul, Turquie
Link: http://www.uskumru.com.tr/
Agora Meyhanesi: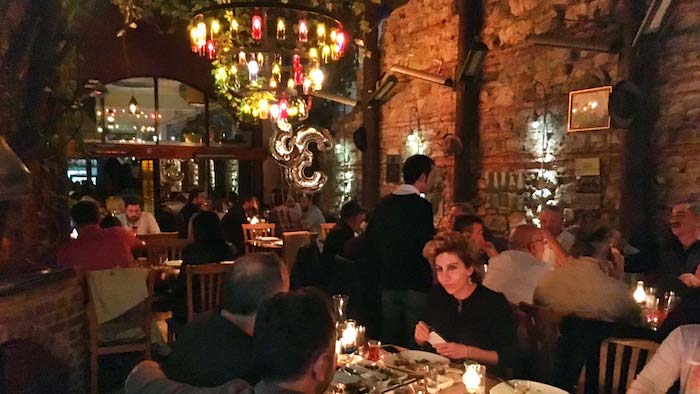 Located in the old Jewish quarter of Balat, this tavern dating back to 1890 was bought two years ago by a Turkish film producer. The boss, Ezel, has tried to recreate the cosmopolitan atmosphere of the district and attaches particular importance to the tradition of raki. Everything is very good and fresh and homemade, even olive oil comes from their own fields. The subdued atmosphere also recalls the taverns of yesteryear. In the sense of savor, this is one of the most interesting places in the city, the only problem is that the area is not busy at night, but you can always hop in a taxi and go party elsewhere. Remember to book in the weekend.
Address: Ayvansaray Mh., Mürselpaşa Cd. No:185 – Link: agorameyhanesi.com
Afiyet olsun, or bon appetit!